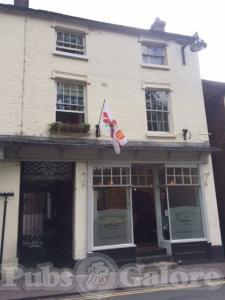 Image posted by
Soup Dragon
Submitted on Sunday, 29
th
July 2018
With picture contributions to 1681 other pubs
View all this pub's pictures
Detail Pages
The Coracle, Telford
High Street
Ironbridge
Postal town: Telford
TF8 7AD
Served areas
Tweets by The Coracle
The Coracle Micropub and Beer Shop RT @TheCoraclePub: If you're not yet quite sure what a Micropub is or why they're becoming so popular, have a look at this short video: ht…
9:31 PM Mar 21st 2018 from Twitter for iPhone
Reviews of The Coracle (Average Rating: 9 of 10)
see review guidelines
Blue Scrumpy left this review about The Coracle
Once again, we'd saved our best pub of the day in Shropshire until last. This micropub has two rooms, front and rear, with a single unisex toilet also in the rear room.

The bar is in the front room on the left. A coracle hangs from the ceiling. A blackboard at the side of the bar lists the real ale, cider and craft beer selection. 4 real ales were Bristol Beer Factory Danger High Voltage, Beer Ink Scrawler, Salopian Golden Thread & Alter Ego Milky Joe. The real cider was Ascension Purple Haze. They also had a couple of fizzy ciders, which were Thistly Cross Scottish Fruits & Ross-on-Wye Birdbarker.

Craft beers were Verdant Allen, GlassHouse Full House & Tanizaki, Polly's Anemoia, Deya/Beak Cosmic Control, Deya We'll Take It Off the Zombies & Ridgeside Picurd & Hold Fast: Azacca.

There was a good mix of drinkers in here, including beer tickers, youngsters and generally like-minded people to ourselves. We enjoyed a good hour or so chatting in here and I have to say that the Milky Joe was a delicious beer.

We retreated to the curry house a couple of doors up, which does not serve alcohol, but suggests fetching your own from the Coracle. The fridge did stock a huge number of additional beers, mostly in cans.

Easily the best pub in Ironbridge and possibly the best I've visited in Telford so far.
On 25th April 2022 - rating: 9
[User has posted 1376 recommendations about 1376 pubs]
---
Please Note: This review is over a year old.
---
Soup Dragon left this review about The Coracle
What is nice about this micropub is that while it is a shop conversion (jeweller/butcher and others in its time) is housed in a period building. The serving bar is to the side as you go in and there are two former rooms that are now really one space. Coracle pictures (the little round boat) are on the walls as the place is near the last coracle maker's boatyard (i think!). It is in grey and white tiles with a wood floor. No TV or music. The service is excellent, he knows his stuff and is friendly (dog treats available as well!). There were a couple of maturer people in at our visit. Beer: A big craft and beer fridge and on draught 5 craft, 1 real cider and 4 real ales - i had the Orkney Dragonhead Stout which was very good. Loved this place - a must do.
On 1st August 2018 - no rating submitted
[User has posted 3067 recommendations about 3062 pubs]
---
Please Note: This review is over a year old.
---
Oggwyn Great left this review about CORACLE MICROPUB AND BEERSHOP
New micropub due to open in former Jewlers shop , overlooking the last Coracle Shed in the country
On 21st March 2018 - no rating submitted
[User has posted 797 recommendations about 683 pubs]
External web links for The Coracle
No known official website for this pub.
Latest updates View all updates for The Coracle, Ironbridge
Pub Details
Pub details supplied by members of this site to the best of their knowledge. Please check with pub directly before making a special trip.
Accommodation :

No

last updated 31 May 2018 by Oggwyn Great

Bar Billiards :

No

last updated 01 August 2018 by ROB Camra

Beer Festivals :

No

last updated 01 August 2018 by ROB Camra

Beer Garden :

No

last updated 01 August 2018 by ROB Camra

CAMRA Discount :

No

last updated 01 August 2018 by ROB Camra

Car Park :

No

last updated 31 May 2018 by Oggwyn Great

Child Friendly :

Yes

-

Until 7 p.m.

-

last updated 01 August 2018 by ROB Camra

Darts :

No

last updated 01 August 2018 by ROB Camra

Dog Friendly :

Yes

last updated 01 August 2018 by ROB Camra

Function Room :

No

last updated 01 August 2018 by ROB Camra

Hot Food :

No

last updated 01 August 2018 by ROB Camra

Jukebox :

No

last updated 01 August 2018 by ROB Camra

Live Music :

No

last updated 01 August 2018 by ROB Camra

Live TV Sports :

No

last updated 01 August 2018 by ROB Camra

Micropub :

Yes

last updated 31 May 2018 by Oggwyn Great

Pinball :

No

last updated 01 August 2018 by ROB Camra

Pool Table :

No

last updated 01 August 2018 by ROB Camra

Quiz Night :

No

last updated 01 August 2018 by ROB Camra

Real Ale :

Yes

last updated 01 August 2018 by ROB Camra

Real Cider :

Yes

last updated 01 August 2018 by ROB Camra

WiFi :

Yes

last updated 01 August 2018 by ROB Camra