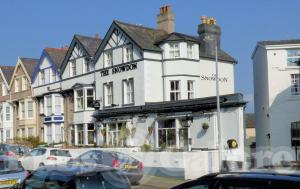 Image posted by
Aqualung .
Submitted on Sunday, 17
th
April 2016
With picture contributions to 1729 other pubs
View all this pub's pictures
(11 more images)
Detail Pages
The Snowdon, Llandudno
11 Tudno Street
Llandudno
LL30 2HB
Served areas
Reviews of The Snowdon (Average Rating: 6½ of 10)
see review guidelines
ROB Camra left this review about The Snowdon
A multi level and multi areas alehouse. Emphasis on dining early on, but by 9 p.m. it's a proper locals pub along with tourists in the know. Nicely decorated with the inevitable pastel shades, but for me it works well. As mentioned below it attracts an upmarket crowd, but the prices are about average for Llandudno. Six handpumps, all badged, with a varied selection of beers. I tried all 6 during our 2 days in Llandudno and all were well kept. This is Ms CAMRA's favourite pub here and I have to say it's in my top two after Tapps.
On 5th July 2022 - rating: 8
[User has posted 3027 recommendations about 2942 pubs]
---
Please Note: This review is over a year old.
---
Quinno _ left this review about The Snowdon
Multi area'd place that's had a bit too much knock-through for my tastes although the decor is modern and tastefully upmarket, aimed at the gracefully aging Gen X and Boomers who seem to make up 50% of Llandudno. Eight pumps, sporting four ales and two ciders in my visit. I tried the Bass (BNSS 4) and Tim Taylor Knowle Spring (4) - the beer was in great shape and plenty was being poured too. Maybe we were unlucky with our COVID-arranged seating but I didn't feel too inclined to linger – perhaps there were better places to sit but in these chastened times I couldn't go exploring to any great extent. Still, can't fault the beer!
On 5th September 2020 - rating: 7
[User has posted 4423 recommendations about 4408 pubs]
---
Please Note: This review is over a year old.
---
Ian Mapp left this review about Snowdon Hotel
I felt this was the best pub in Llandudno.

Good Beer Guide Entry 2019.

Nice covered patio area the front was very present on a summer evening where it was both warm and raining.

Inside, its a couple of houses knocked together with a good bar area and little tables dotted about in alcoves.

Beer wise, I only got as far as the Bass, which was a surprise and in top condition.

Enjoyed our visit.
On 29th July 2019 - rating: 8
[User has posted 989 recommendations about 981 pubs]
View more reviews of The Snowdon (9)
External web links for The Snowdon
Latest updates View all updates for The Snowdon, Llandudno
Pub Details
Pub details supplied by members of this site to the best of their knowledge. Please check with pub directly before making a special trip.
Accommodation : No last updated 05 July 2022 by ROB Camra
Bar Billiards : No last updated 05 July 2022 by ROB Camra
Beer Festivals : No last updated 05 July 2022 by ROB Camra
Beer Garden : Yes last updated 05 July 2022 by ROB Camra
CAMRA Discount : No last updated 05 July 2022 by ROB Camra
Car Park : No last updated 05 July 2022 by ROB Camra
Child Friendly : Yes last updated 05 July 2022 by ROB Camra
Darts : No last updated 05 July 2022 by ROB Camra
Dog Friendly : Yes last updated 05 July 2022 by ROB Camra
Function Room : No last updated 05 July 2022 by ROB Camra
Hot Food : Yes last updated 05 July 2022 by ROB Camra
Jukebox : No last updated 05 July 2022 by ROB Camra
Karaoke : No last updated 05 July 2022 by ROB Camra
Live Music : No last updated 05 July 2022 by ROB Camra
Live TV Sports : No last updated 05 July 2022 by ROB Camra
Micropub : No last updated 05 July 2022 by ROB Camra
Pinball : No last updated 05 July 2022 by ROB Camra
Pool Table : No last updated 05 July 2022 by ROB Camra
Real Ale : Yes last updated 05 July 2022 by ROB Camra
Real Cider : No last updated 05 July 2022 by ROB Camra
WiFi : Yes last updated 05 July 2022 by ROB Camra