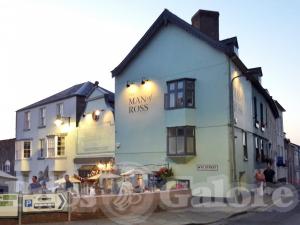 Image posted by
Quinno _
Submitted on Tuesday, 11
th
September 2018
With picture contributions to 4292 other pubs
View all this pub's pictures
(14 more images)
Detail Pages
The Man of Ross, Ross-On-Wye
Wye Street
Ross-On-Wye
HR9 7BS
Pub Type
Punch Taverns
Served areas
Reviews of The Man of Ross (Average Rating: 7 of 10)
see review guidelines
Delboy 20 left this review about The Man of Ross
Cracking pub just on the edge of town. I arrived just on opening time and there were already a handful of regulars gathering. The outside area was a real sun trap on a sunny day. HPA, Butty Bach and London Pride on offer. The HPA was excellent. Well worth a visit.
On 27th June 2022 - no rating submitted
[User has posted 1372 recommendations about 1297 pubs]
---
Please Note: This review is over a year old.
---
Real Ale Ray left this review about The Man of Ross
The first pub to greet us on our way in, on the No33 bus from Hereford. The exterior of this pub is very well maintained along with an equally well kept interior. This is a two roomed pub, with the lounge and bar side on the left and a right hand room mainly set out for dining. The lounge and bar side was very comfortable with a log burning stove set into a cream marble fireplace. This area also had a quality patterned turquoise wallpaper running along the left hand side wall. The seating was low tables and chairs, along with some bench seating and the floor was carpeted. Four handpumps serving three beers, Dartmoor Dragons Breath, Wye Valley HPA and London Pride. I went for the London Pride, which was in outstanding condition and only £3.30 a pint. An unusual ritual about the pub was why do some of the locals throw coins into the gents toilet/trough. I asked the young barman who told me as soon as we take the coins out, they immediately start adding coins again, he laughed and told me that the other week they found a new fiver in there. It has to be an eccentric local or a strange way of leaving a tip.
On 7th January 2019 - rating: 8
[User has posted 3126 recommendations about 3126 pubs]
---
Please Note: This review is over a year old.
---
Quinno _ left this review about The Man of Ross
Nicely located on the junction and looks impressive due to the front courtyard garden with 'a three fish sculpture' (so says my notes) and a bust of John Kyrle (the eponymous Man of Ross, a c.17th philanthropist and a massive benefactor to the town) on the front wall. There are a couple of smallish rooms inside, with a bit of character to boot. Three ales on; Pride, Wye Valley HPA and a pretty good drop of Wye Valley Butty Bach – so a definite upswing from Roger's findings a few years ago. Probably the best all-rounder in Ross and the one I'd definitely make a beeline for next time. 7.5
On 16th July 2018 - rating: 8
[User has posted 4423 recommendations about 4408 pubs]
View more reviews of The Man of Ross (5)
External web links for The Man of Ross
Latest updates View all updates for The Man of Ross, Ross-On-Wye
Pub Details
Pub details supplied by members of this site to the best of their knowledge. Please check with pub directly before making a special trip.
Accommodation : No last updated 03 December 2018 by Quinno _
Bar Billiards : No last updated 03 December 2018 by Quinno _
Beer Festivals : No last updated 03 December 2018 by Quinno _
Beer Garden : Yes last updated 03 December 2018 by Quinno _
CAMRA Discount : No last updated 03 December 2018 by Quinno _
Car Park : No last updated 03 December 2018 by Quinno _
Child Friendly : Yes last updated 03 December 2018 by Quinno _
Darts : Yes last updated 24 January 2017 by ROB Camra
Dog Friendly : Yes last updated 03 December 2018 by Quinno _
Function Room : No last updated 03 December 2018 by Quinno _
Hot Food : Yes last updated 03 December 2018 by Quinno _
Karaoke : No last updated 03 December 2018 by Quinno _
Live Music : Yes - Occasional - last updated 03 December 2018 by Quinno _
Micropub : No last updated 03 December 2018 by Quinno _
Pinball : No last updated 03 December 2018 by Quinno _
Pool Table : No last updated 03 December 2018 by Quinno _
Real Ale : Yes last updated 03 December 2018 by Quinno _
Real Cider : No last updated 03 December 2018 by Quinno _
Wheelchair Access : Yes last updated 24 January 2017 by ROB Camra
WiFi : Yes last updated 03 December 2018 by Quinno _